I assembled this page for the benefit of my mother, who asked for photographs of all my college friends. I scanned a few pictures from a roll of film I took recently and put them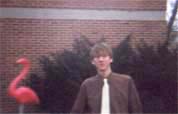 together here. All the pictures on this page were taken with a cheap plastic quad-camera, so the images were all quite small and were not exactly properly exposed. I decided that it would be best to keep them tiny.
The person standing next to the flamingo is me. The flamingo was an item found in the free box. We put it up outside Mills, where the photo was taken, but it only stayed there for a day or two.



Clockwise: Me, Ben, Andy, Gallagher
The man in the cowboy shirt and sunglasses is Ben. He lives in Alaska, and I will be staying at his house this summer. He plays banjo and guitar, and listens to country music. Not pop country music. He has shorter hair now.
The disheveled gentleman is Andy. He comes from Maine, and has been the driving force behind all of our most questionable hi-jinks. He owned a Commodore 64 and has sparked my interest in lo-fi electronic music. I have starred in all of his film projects to date. He will be in Alaska with us.
Gallagher comes from the state of Washington. He enjoys all popular culture in any form. He spends his afternoons watching Jackie Chan Adventures and his evenings watching Gilmore Girls and Buffy the Vampire Slayer on the WB.
I will try to get some more pictures scanned as I get the chance. However, the camera is currently lying in pieces on my desk, so after I finish with this roll of film there will probably not be another for quite some time.